Kiki Smith
Standing (1998)

Kiki Smith's concern with the body and the skin as a protective but fragile, penetrable membrane surfaced in works of the late 1970s. Upending paradigms of the classical figure and hierarchies of artistic materials with her use of glass, beads, paper and wax, Smith created poignant and sometimes disturbing images. Her focus on the body and its functions defied traditional distinctions between public and private subject matter.
Smith's vision of the body as a fluid vehicle for intimating life - and death - suggested the School of Medicine as fertile territory for Standing, her Stuart Collection project. From the beginning her ideas evolved in relation to the site between the Medical Teaching Facility and the Basic Sciences Building amidst eucalyptus trees, sloping lawns and curving pathways. There is a sense of quiet intimacy that is activated by the flow of foot traffic between classes.
Smith's original idea of a figure on a classical column soon evolved to become a figure on a cast tree trunk. A dead tree was located on campus, removed and delicately cast at San Diego Pre-Cast Concrete. So refined is the casting that it has captured the network of beetle trails that once lay under the thin eucalyptus bark -- a feature that originally drew Smith's interest. The paths of these insects, which caused the tree's death, evoke notions of veins and capillaries; the trunk's artery-like roots reach into the water below. Stripped of its bark and exposed through time and decay, it is remarkable in the way that it calls out the live eucalyptus around the site, thus embracing the entire area. Pathways were reconfigured and added by the artist to extend the arterial imagery.
Cast from a live model, the female figure atop Standing calls forth thoughts of human strength and frailty, and both the power and the limits of medicine. Serene and ageless, she stands in a Madonna-like pose that is both vulnerable and generous. Ribbons of water - the source of life - flow from her hands into the rock-lined pond below, with a soothing, mellifluous sound.
The skin surface of the body itself is violated to reveal the musculature and tendons of arms and calves, reflecting Smith's interest in such anatomical illustrations and models as Gray's Anatomy. A "necklace" of starfish-headed pins, placed in the shape of the constellation Virgo, pierces the flesh, calling up a profusion of associations, from acupuncture to dissection to martyrdom. With these tiny starfish like a veil of Virgo gems, the delicate pins call up at once the oceanic and the celestial, in an image that speaks of mind and body, of flesh and healing. Standing is Smith's first permanent outdoor work.
Photography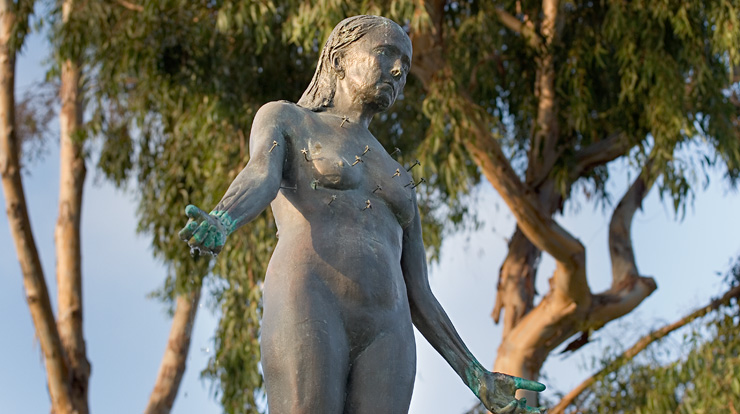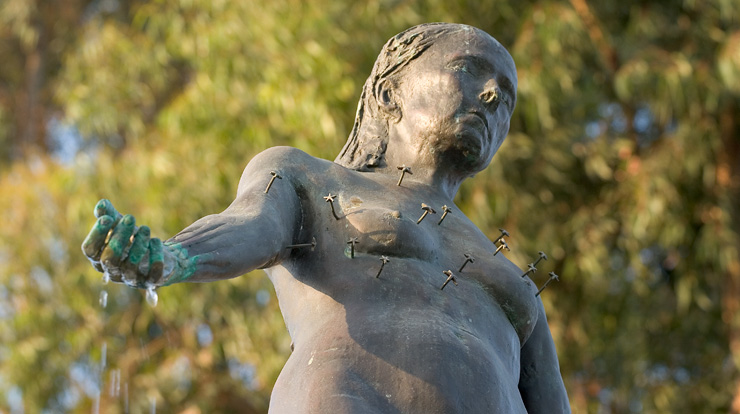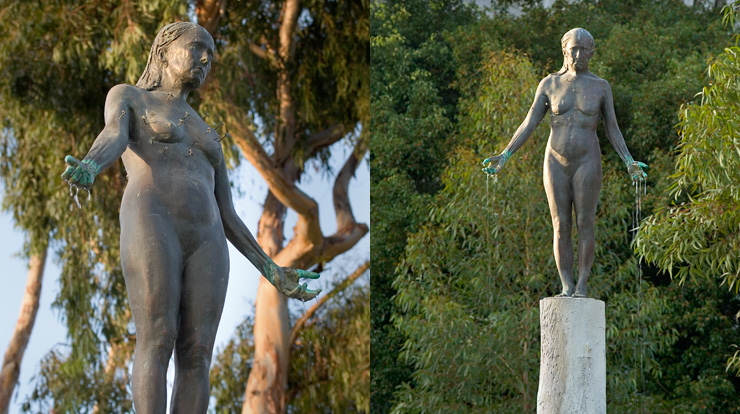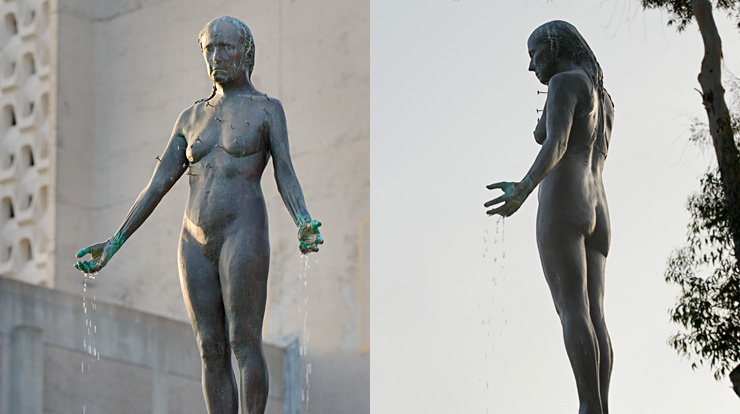 Videos