Elizabeth Murray
Red Shoe (1996)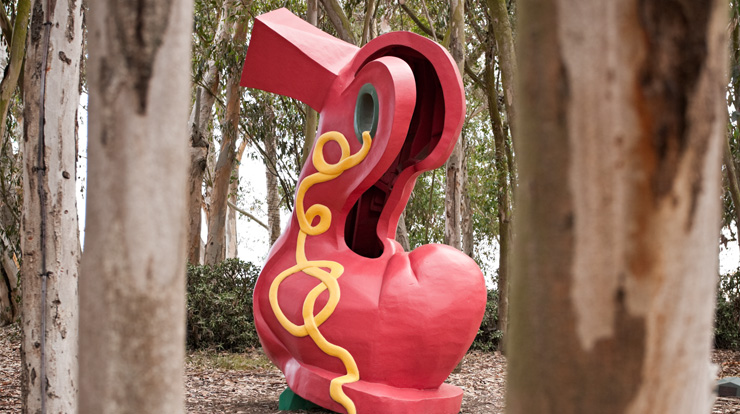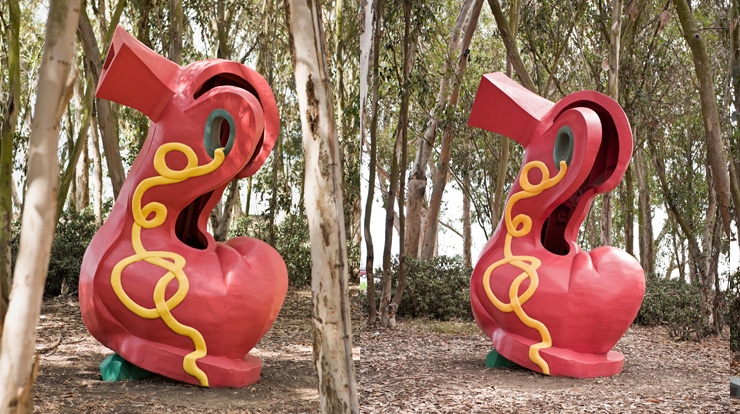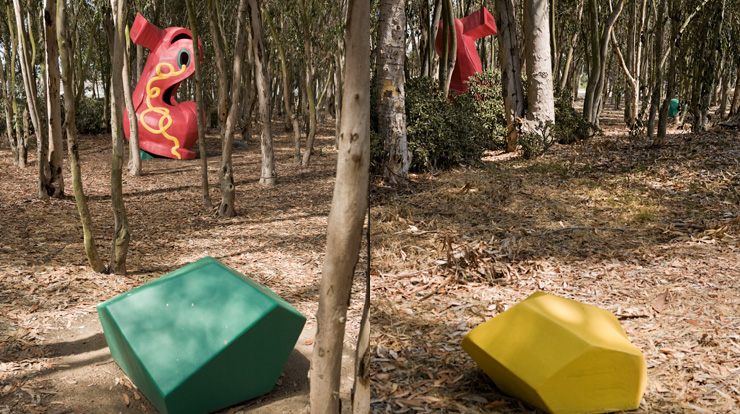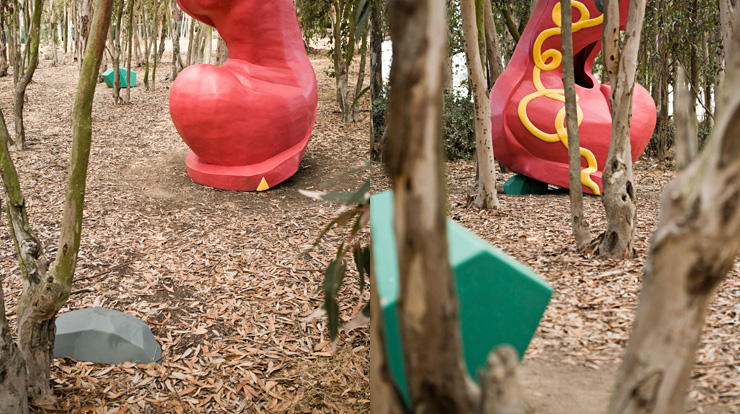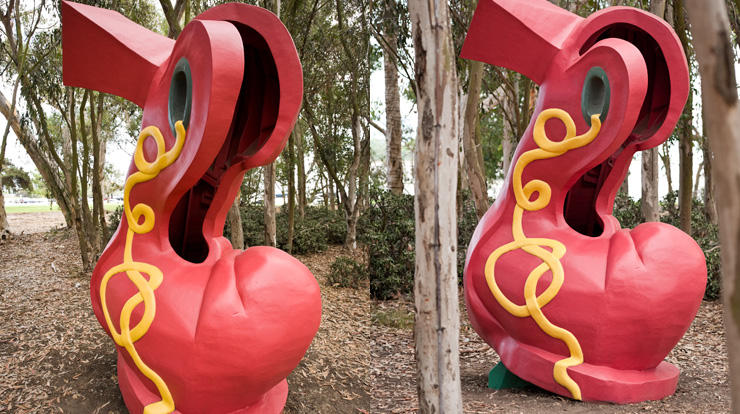 Driving along Torrey Pines Road, which borders the campus, or walking an adjacent pedestrian path, viewers gradually decipher a mysterious red object -- a shoe loping through the woods, colorful jewels in its wake. When the Stuart Collection invited New York-based painter Elizabeth Murray to think about conceiving her first freestanding work, the hand of a gifted painter was introduced into the collection. Murray is known for paintings of quotidian objects -- cups and saucers, tables and chairs, shoes -- transformed by forces that tug and push. Magically infused with stories familiar to us all, the shapes recall fairy tales, cartoons and animated films. Early on Murray extended the torqueing of form to her canvases. Her paintings became increasingly dimensional and quirky in shape, challenging the boundaries of traditional painting.
While visiting the campus, Murray was drawn to a grove of diminutive eucalyptus trees near the theaters and drama department. The image of a shoe emerged quickly, prompting Murray's first fully three-dimensional site work. "It was like taking one of the paintings and filling it up with air, which feels to me something that they are already trying to do. Like blowing themselves up somehow; there's a lot of pressure from the inside," she explained.*
Having considered a variety of materials -- including concrete and fiberglass -- Murray chose laminated wood and a boat like construction plainly visible inside the shoe. Constructed over the course of 1996 in Murray's New York studio, Red Shoe has brought to life a formerly forgotten corner of campus.  It is an alluring place for children to climb, its smooth exterior giving way to a roughly hull-like interior, hinting at the enclosure of a nest or fort.  Narratives come to mind as fantasy evokes the resonance of childhood rhymes and tales.  In the words of Robert Storr, Dean of the Yale University School of Art, "Reason presides over universities; it remains for artists to give substance to those areas of consciousness that reason has not and perhaps cannot articulate."
Murray lived in New York until her death in 2007. She was a 1999 recipient of a MacArthur Foundation Fellowship. In 2005, The Museum of Modern Art, New York, organized a major exhibition of her work.
*Simon, Joan. "An interview with Elizabeth Murray." Elizabeth Murray: Recent Painting. New York: Pace Wildenstein, 1997.
Videos
More Photos