Barbara Kruger
Another (2008)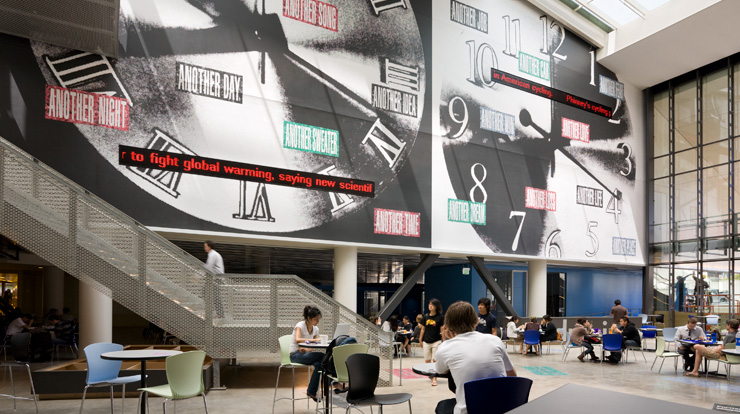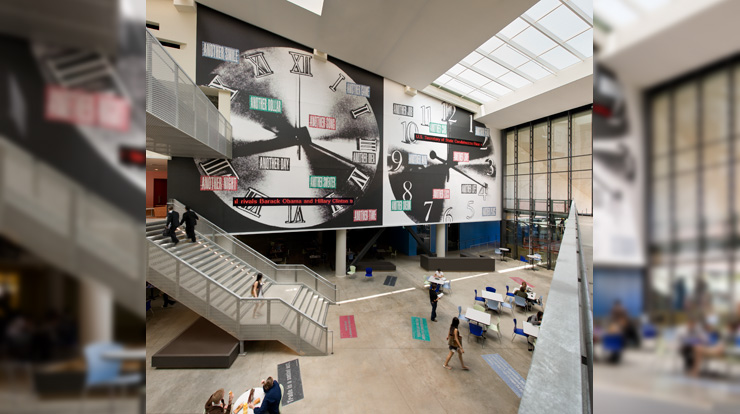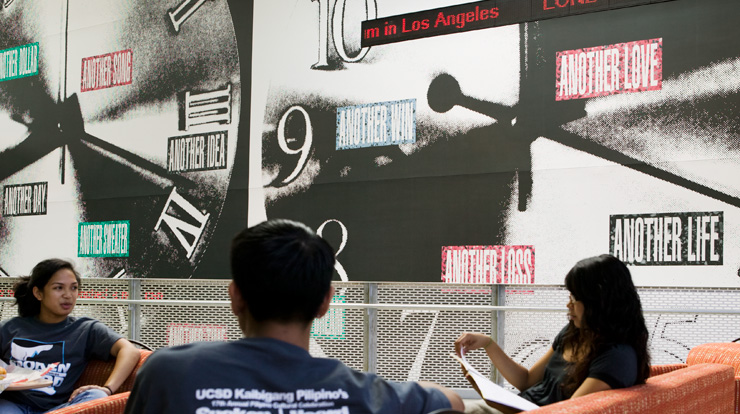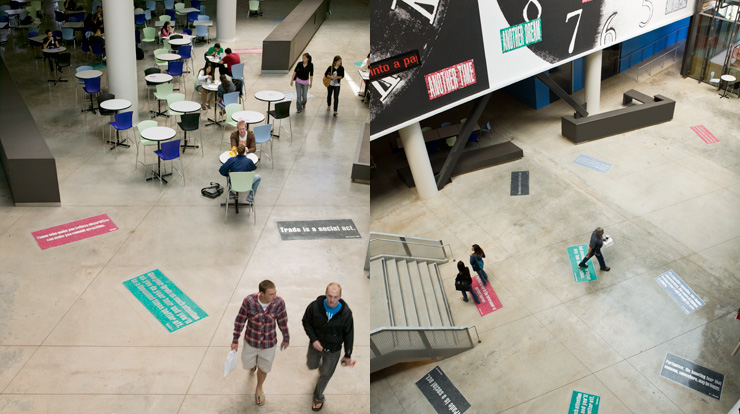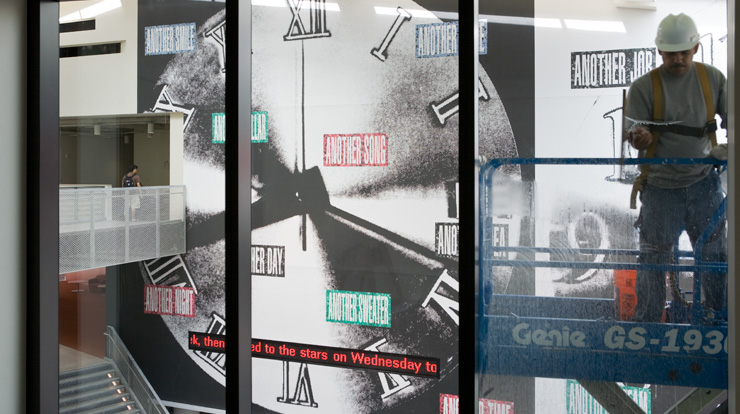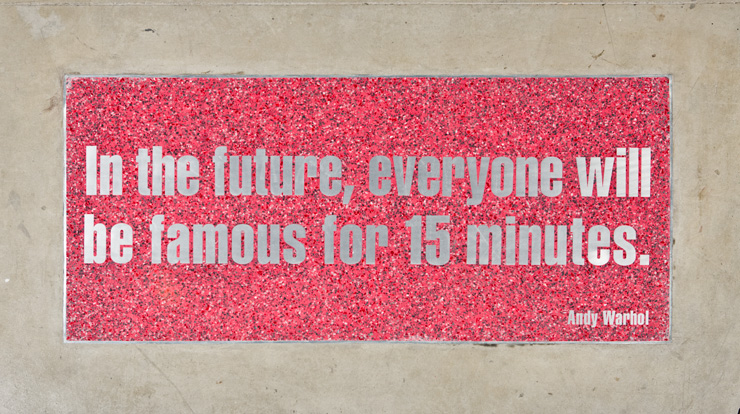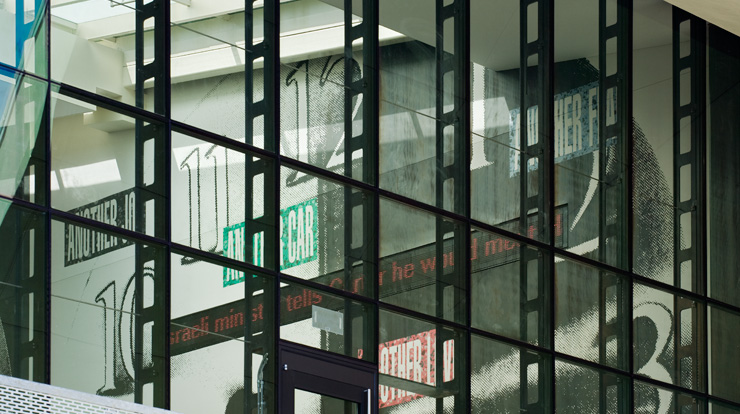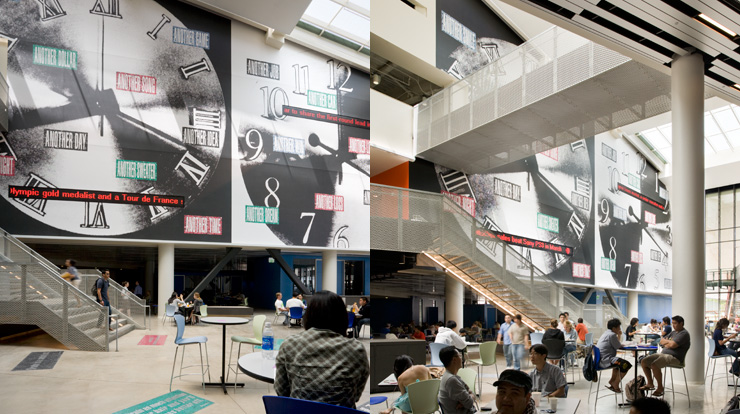 Barbara Kruger is highly regarded as what might be called a "crossover" artist: she is a teacher, a critic, and a curator.  She has written op-ed pieces for newspapers, she sits on boards of art organizations, and publishes books. She has produced public projects and worked in collaboration with architects.  She has designed books, book covers, billboards, posters, tote bags, mugs, t-shirts and many forms of merchandise.  She is a social commentator and a political agitator.  
Her mode is words - texts as direct public address.  She combines words and images.  She speaks to the world and brings the world into her projects.  She exposes the dark side: IT'S A SMALL WORLD BUT NOT IF YOU HAVE TO CLEAN IT combined with an image of a woman with a magnifying glass held up to her eye.  She has a sense of humanity and a sense of humor:  I SHOP THEREFORE I AM is another.
Her work, Another is in the vast atrium of the Price Center East, a 2008 addition to the original student center.  Making a visual intervention at this complex site that combines eating, studying, shopping and socializing, was both a challenge and an opportunity. The large interior wall that dominates the central space now bears a massive double image of clocks which is punctuated by terrazzo-like areas that contain the following phrases: ANOTHER DAY, ANOTHER NIGHT, ANOTHER IDEA, ANOTHER DREAM, ANOTHER SONG, ANOTHER FEAR, ANOTHER JOB, ANOTHER EXAM, ANOTHER SMILE, ANOTHER BOOK, ANOTHER SWEATER, ANOTHER CAR, ANOTHER LOVE, ANOTHER LIFE. The clocks' consideration of time, coupled with these phrases, suggests the increments of moments, objects, and events that comprise our days and nights.  Two LED displays show live current news, adding another level of interest, as well as meaning, and suggesting how our lives are, to some degree, culturally inflected, constructed and contained.   
This combination of graphic image and moving text creates a space which functions on both a pictorial and a time-based level. The visual motif of the wall is extended to the floor by the use of terrazzo rectangles placed throughout the area. These color blocks contain quotes from prominent figures in both the arts and sciences. The expansiveness of the wall and floor anchor the area with powerful images and, with the texts, create a space of visual pleasure, and relevancy.
Kruger's works are in major museum collections worldwide, including: the Daros Collection, Zürich; Deste Foundation for Contemporary Art, Athens; Fonds régional d'art contemporain de Bourgogne (FRAC), Dijon; Arario Museum in Space, Seoul; Institute of Contemporary Arts, London; Solomon R. Guggenheim Museum, New York; Musée d'art moderne et d'art contemporain, Nice; Museum Ludwig, Cologne; Museum of Contemporary Art, Chicago; Museum of Contemporary Art, Los Angeles; National Gallery of Art, Washington DC; Yokohama Museum of Art; Saint Louis Art Museum; Metropolitan Museum of Art, New York; Seibu Museum of Art, Tokyo; Tate Modern, London; Museum of Fine Arts, Boston; Los Angeles County Museum of Art; and the Museum of Modern Art, New York.  Barbara Kruger received the Leone d'Oro for lifetime achievement at the 2005 Venice Biennale, where she was also commissioned to design the façade of Italy's national pavilion. She taught at UCSD for five years before joining the faculty at UCLA.  Kruger lives in Los Angeles and New York City.
Videos
More Photos