Jenny Holzer
Green Table (1992)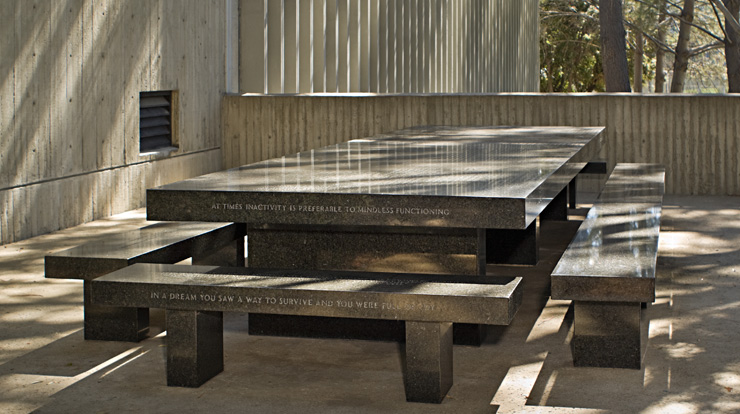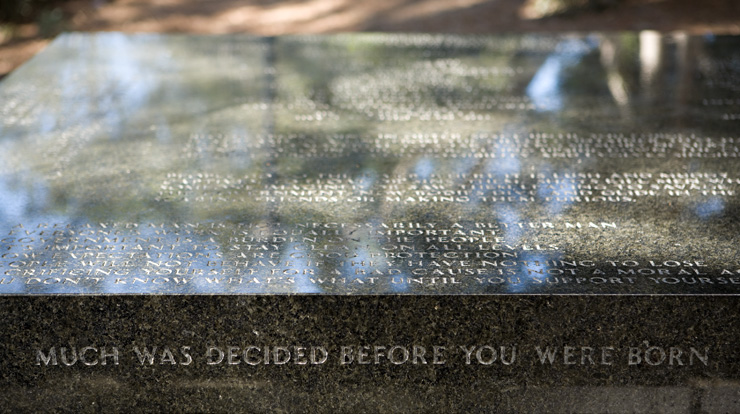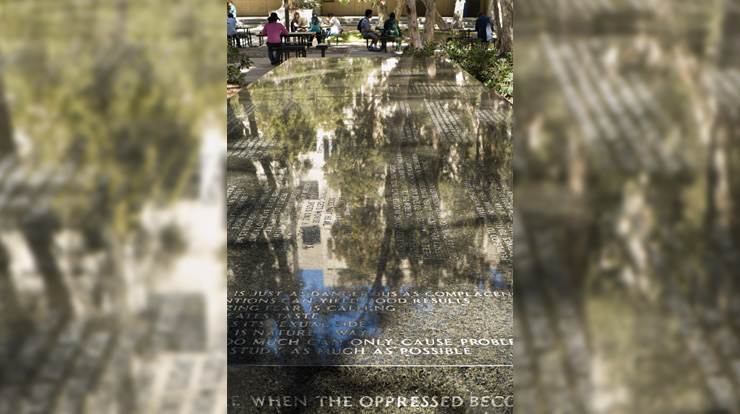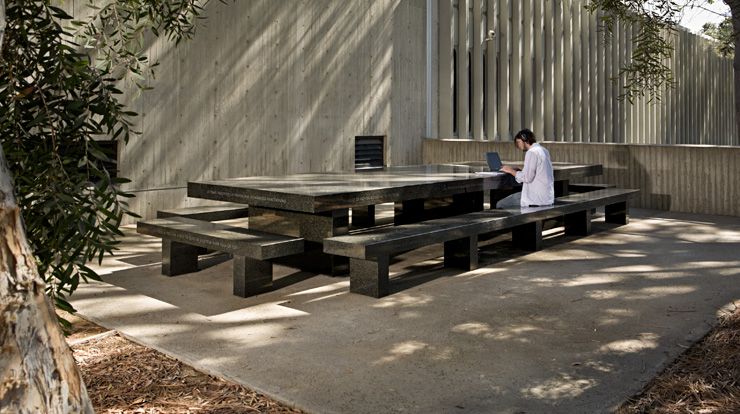 Jenny Holzer is best known for her arresting and sometimes contradictory texts, and for her skillful manipulation of mass-media channels ranging from LED signs to street posters, plaques, and television. She has also conceived and implemented powerful site-specific installations. Her transformation of the Solomon R. Guggenheim Museum in New York into a moving spiral of electronic information; her widely praised US pavilion at the 1990 Venice Biennale (composed of LEDs, benches and inscribed marble floors); and her numerous light projections on iconic buildings have fused text – be it a declaration, a challenge or a lament – with architecture and sculpture.
In 1992, for the Stuart Collection, Holzer created Green Table, a large granite picnic or refectory table and benches inscribed with texts. At the time, several temporary projects were also realized on the campus, including incorporating texts into existing electronic signs and into the Geisel Library computer system. Faux anonymous ads were inserted during television commercial breaks, and posters and a series of cast aluminum plaques were installed throughout the campus. Like many of the works in the Stuart Collection, Holzer's table and benches, sited in the Muir College quad, monumentalize an ordinary and functional set of objects. Like all tables, Holzer's work serves as an informal gathering place for students and faculty to eat, study, or play. But the various attitudes Holzer adopts in her writings – from humorous commentary to politically charged criticism – also create a site for questioning and debate.
Holzer's art came to prominence in the late 1970s and early 1980s when she began to plaster posters of her "Truisms" in downtown Manhattan. This contradictory list of alphabetically ordered aphorisms seemed like a catalogue of clichés but was, in fact, written and orchestrated by Holzer. Through their juxtapositions, the Truisms dramatized a depersonalized information landscape. Holzer has also produced a variety of texts with points of view ranging from the indignant to the concerned to the resigned. In a practice spanning more than forty years, she continues to join ideological statements with the forms and meanings of architecture.
Holzer has completed numerous works since Green Table, including an "anti-memorial" featuring a black garden in Nordhorn, Germany and a peace monument in Erlauf, Austria.  Other installation sites include Qualcomm Headquarters in San Diego, the Guggenheim Museum Bilbao, the Reichstag Building and Neue Nationalgalerie in Berlin, 7 World Trade Center in New York, the New York City AIDS Memorial and the Louvre Abu Dhabi.
Videos
More Photos