Tim Hawkinson
Bear (2005)

Tim Hawkinson is known for taking a simple proposition to great extremes. He has a predilection for readily available materials - found, everyday objects, and often his own body - as material, reference, and model. He has a persistent fascination with perception, time, scale and the "primitive" or rudimentary. His process can be long and arduous, labor intensive, and repetitive. Play and humor emerge. Since the mid-1980s he has brought the most inventive and varied materials to life in a wide-ranging body of work, taking the ordinary into new and unexpected realms. This is apparent in his work Balloon Self-Portrait, a latex cast of his own body, turned inside out and blown up; or Bird, a two-inch-high skeletal creature made of fingernail clippings and superglue.
For the Stuart Collection, Tim imagined a bear constructed of boulders. Eight granite stones - torso, head, ears, arms, and legs - were found locally. Together they make a bear 23'6" feet high with a total weight of 180 tons. Bear sits in the Academic Courtyard formed by three signature-engineering buildings: Atkinson Hall of the California Institute for Telecommunications and Information Technology, the Computer Science and Engineering Building, and the Powell-Focht Bioengineering Hall. First proposed in 2001, assembly of the sculpture took place onsite in May 2005 and the landscaping was completed in November 2005. Bear looks simple but was a sophisticated transportation and engineering feat. The process of placing and securing the boulders together was complex and unusual - actually unknown - in the construction world.
Bear pushes the bounds of credibility. Questions arise. Where did they find these rocks? How did they get them here? Are they real? How are they held together? On the one hand, the sculpture is massive, permanent, thoroughly engineered. At the same time, it has a form (a toy bear) that one knows to be soft and cozy - a form that one associates with childhood, play, and security. The bear can be seen framed through the trees lining the paths that lead to the Academic Courtyard. As you get closer, you see the mass, the monumentality and the stone surfaces. It becomes immense, especially in the context of the scale of a toy. The rounded, ancient, and weathered natural granite contrasts with the high-tech, anodized, and highly manufactured surfaces of the surrounding buildings. The Bear in this world has an astonishing and memorable presence. It has inspired many students who have given it Valentines' Day "heart glasses", an entire crew team uniform, and a "Beary Potter" costume.
Born in San Francisco, Hawkinson studied at San Jose State and UCLA, and now lives and works in Los Angeles. His solo exhibitions have included shows at MASS MoCA and the Hirshhorn Museum and Sculpture Garden in Washington. A major and comprehensive mid-career survey of the artist's work - co-organized by the Whitney Museum of American Art in New York and Los Angeles County Museum of Art - was seen in both locations in 2005.
Photography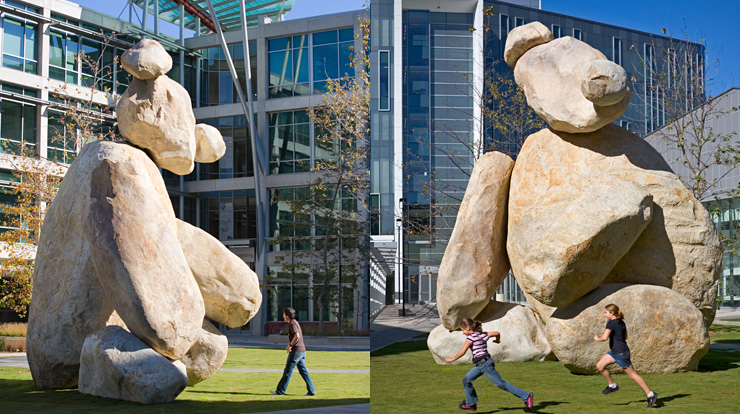 Videos