Terry Allen
Trees (1986)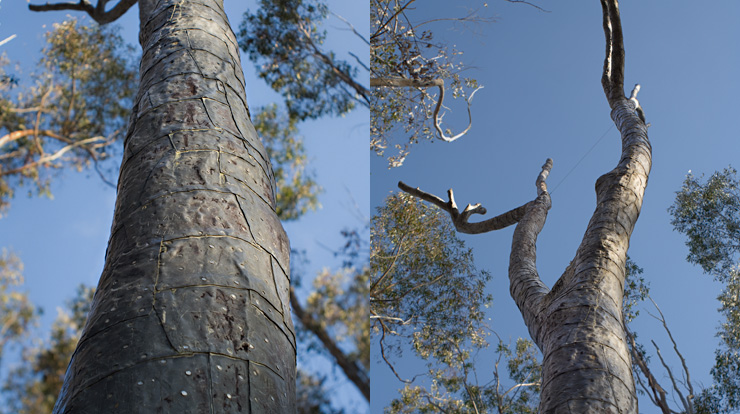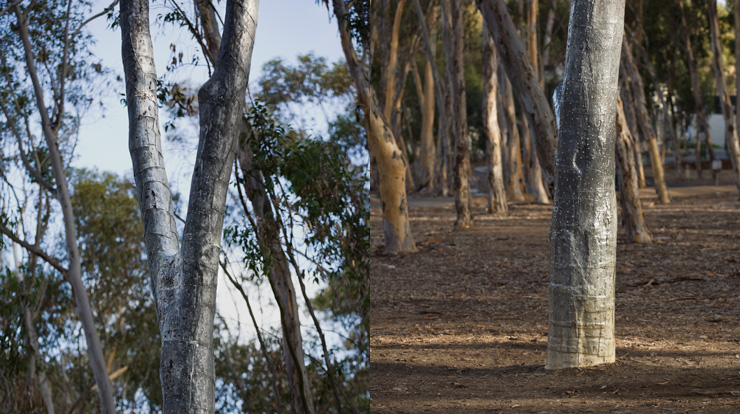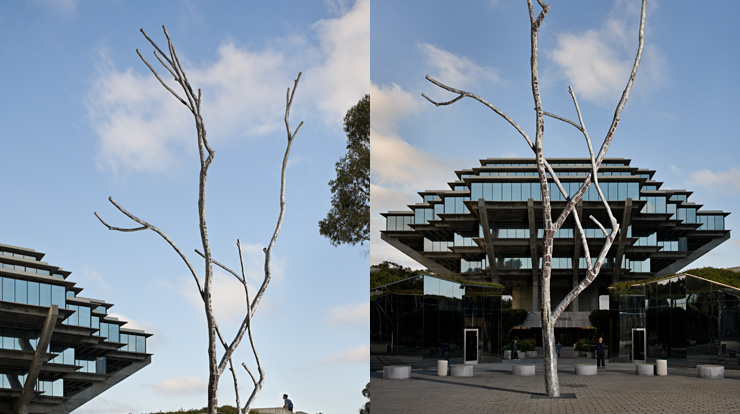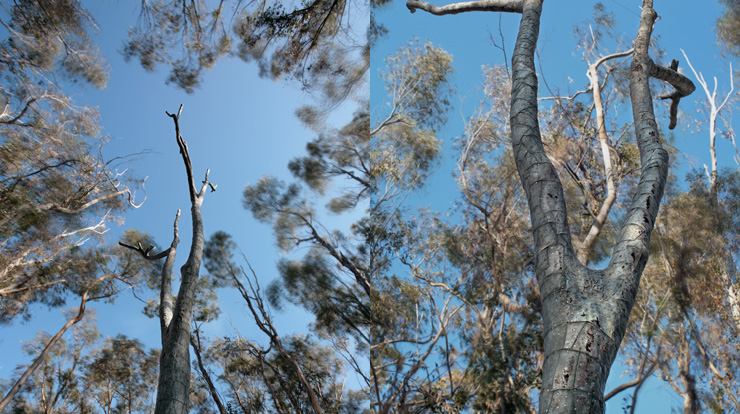 Terry Allen is a multidisciplinary artist in the truest sense of the term. In addition to his indoor installation and sculptural work (which is emphatically mixed-media) and his paintings, writings and drawings, Allen is also a songwriter, composer, pianist, and the lead vocalist with his own Panhandle Mystery Band. Allen is well known for his installation and performance projects. One such piece, Youth in Asia, reflected on the experience of the Vietnam War by exploring American value systems through a variety of means ranging from mass cultural heroes to fairy tale protagonists like Snow White and the Seven Dwarfs, to the ethos of roadhouses in the American Southwest.
Allen's diverse talents and experiences are highlighted in his first outdoor project, Trees, for the Stuart Collection. He remarks upon the continual loss of natural environment at UCSD by salvaging three eucalyptus trees from a grove razed to make way for new campus buildings. Two of these trees, preserved and encased in skins of lead, stand like ghosts within a eucalyptus grove between the Geisel Library and the Faculty Club. Although they ostensibly represent displacement or loss, these trees offer a kind of compensation: one emits a series of recorded songs and the other a lively sequence of poems and stories created and arranged specifically for this project.
For the music tree, William T. Wiley, known for his paintings filled with literary puns and eccentric maps, sings Ghost Riders in the Sky, accompanying himself on a homemade instrument; West Texas singer Joe Ely sings Mona Lisa Squeeze My Guitar, while the Maines Brothers work pedal steel guitars, a Thai band plays, and filmmaker/musician David Byrne sings a song he composed especially for this project. For the literary tree, Bale Allen delivers his poem about scabs, the poet Philip Levine recites, plus there are Navajo chants, translations of Aztec poems, duck calls, and many other sound works. Trees is a continuous project and Allen and others are at work on future contributions.
One could walk through the grove several times before noticing Allen's two unobtrusive trees. Not only do these trees reinvest a natural site with a literal sense of magic but they implicitly make connections between nature and death and the life of the spirit. It is not surprising that students have dubbed this area the "Enchanted Forest."
At the entrance to the Geisel library the third tree of Allen's installation remains silent - perhaps another form of the tree of knowledge, perhaps a reminder that trees must be cut down to print books, perhaps a dance form, or perhaps noting that one can acquire knowledge both through observation of nature and through research.
Since completing Trees, Allen has done numerous public works, among them: Corporate Head at Citi-Corps Plaza in Los Angeles; a large bronze leaf, Belief, for the Vontz Center for Molecular Research in Cincinnati, OH; a giant bronze wishbone, Wish, for DFW airport; Scioto Lounge - three humanized bronze deer on the banks of the Scioto River in Columbus, OH; and, most recently, Road Angel - a bronze 1953 Chevy with sound for Contemporary Austin/Laguna Gloria Museum in Austin, TX.  Allen has released 13 albums of original music including the recently acclaimed Bottom of the World, and a new suite of prints with the same title by Landfall Press.  His classic albums, Juarez and Lubbock (on everything), have been re-issued.  He was the first recipient of the Townes Van Zandt Songwriting Award and is 2017 recipient of the Stephen Bruton Award for songwriting at the Lone Star Music Festival, Ft. Worth, TX.   Allen lives in Santa Fe, NM with his wife, actress and writer, Jo Harvey Allen.
Folklore
People have been permitted - even encouraged - to scratch initials into the trees. The letters fade and new ones are scratched on top, creating the effect of the passage of time and people becoming part of the layers and history of the tree.
Videos
More Photos