Richard Fleischner
La Jolla Project (1984)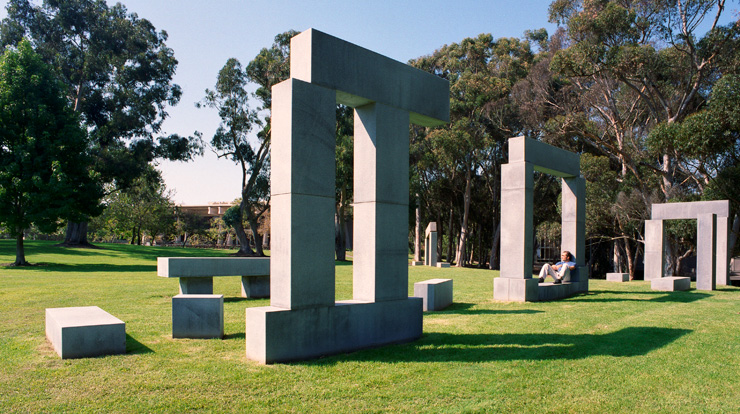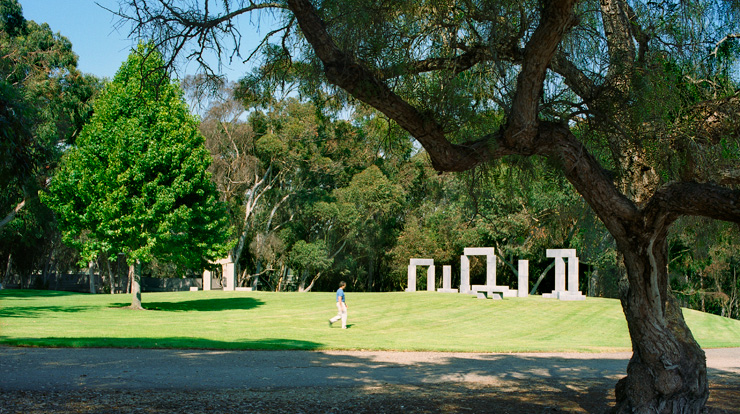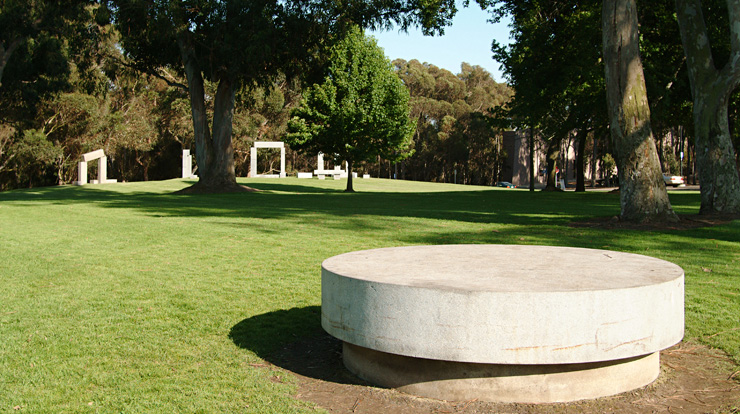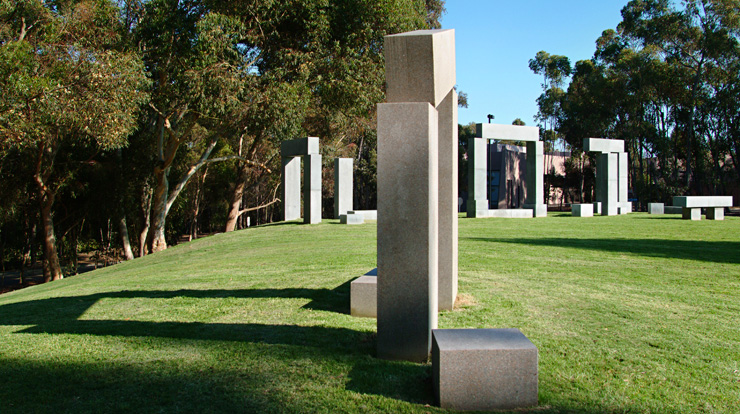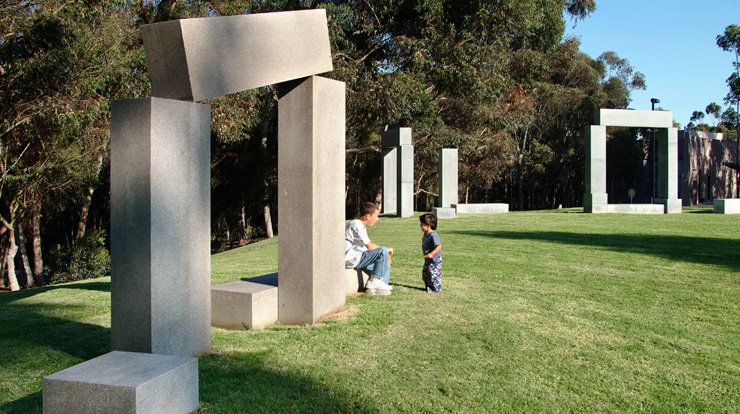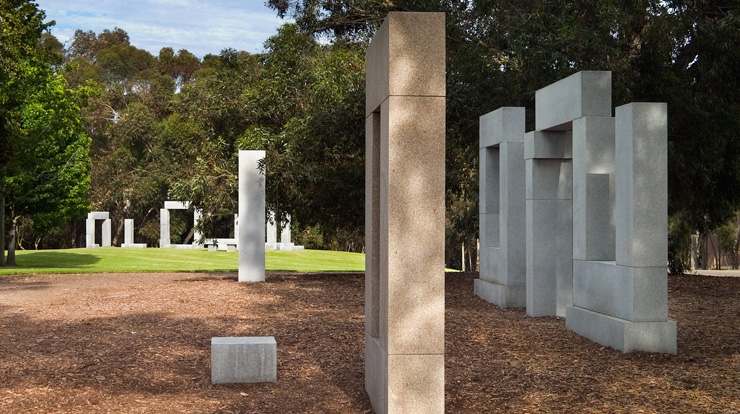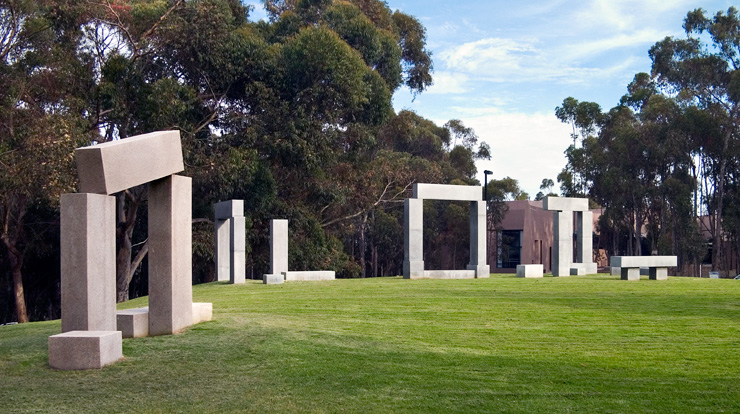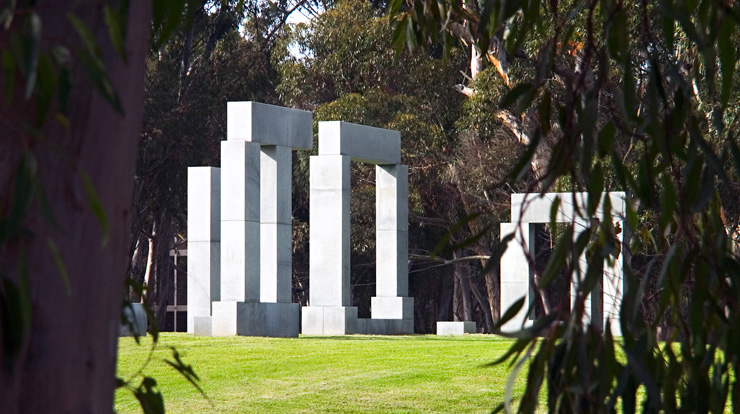 Richard Fleischner began to work environmentally in the 1970s; for him elements of nature could themselves serve as sculptural media. Fleischner has used hay, sod, grass, and wooden structures to project universal architectural forms into the ephemera and a variety of natural settings. The maze, the corridor, and the rudimentary shelter have been important sources for Fleischner, but he also draws inspiration from his knowledge of historical monumental sites. These range from Egyptian pyramids to Greek temples, where the play of architectural elements is the essence of a place.
Fleischner's La Jolla Project, completed in 1984 and the third work in the Stuart Collection, is located on the Revelle College lawn south of Galbraith Hall. Seventy-one blocks of pink and gray granite are arranged in configurations that refer to architectural vocabulary: posts, lintels, columns, arches, windows, doorways, and thresholds. Like players on a field or game pieces (Fleischner made a series of small game like sculptures in the late sixties), these elements transform an ordinary, nearly flat lawn into a space with allusions ranging from an ancient ruin to a contemporary construction site. Fleischner's work is always determined by the topography of a site, its spatial relationships, and the distinctive ways people move through and around it. What is most important for him is to interpret and essentialize a place by using minimal means to delineate natural lines and boundaries, while establishing an interplay of horizontal and vertical elements. There is no single way to experience La Jolla Project - it generates a complex set of spatial and historical relationships that invigorate and give meaning to the formerly undefined area it occupies. The stones for La Jolla Project were quarried in New England and cut near Providence, Rhode Island, where the artist lives and works.
Other important sited works include: the Balsillie School at the Center for International Governance Innovation in Waterloo, ON (2010-2012); the Massachusetts Institute of Technology in Cambridge (2008-10 and 1980-85); a memorial for victims of 9/11 at the Marsh & McLennan headquarters in New York (2002-03); Brown University War Memorial (1996-97); a 3000 sq. ft. terrazzo inlay in the Cancer Center atrium at the University of North Carolina in Chapel Hill (1995-98); and a large outdoor park area in front of the Judicial Building in downtown St. Paul, MN (1988-91).
Folklore
The La Jolla Project is more commonly known on campus as "Stonehenge." It is a popular place for students to go to talk or study.
Videos
More Photos